EGU 2018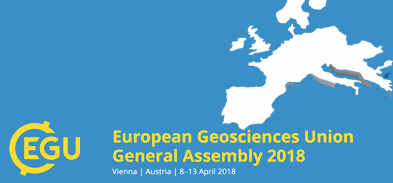 The EGU General Assembly 2018 will bring together geoscientists from all over the world to one meeting covering all disciplines of the Earth, planetary and space sciences. The EGU aims to provide a forum where scientists, especially early career researchers, can present their work and discuss their ideas with experts in all fields of geoscience. The EGU is looking forward to cordially welcoming you in Vienna.
The General Assembly of EGU facilitates presentation and discussion of scientific results in the form of poster, oral, and PICO presentations. Over the last years, two-thirds of the abstracts were presented as a poster and one-third as oral or PICO. The EGU stresses that all scientific presentations at its General Assembly have equal importance, independent of format. There is no distinction regarding the standing, quality or prestige of oral, poster, or PICO presentations. The different presentation formats offer different ways to present research and obtain feedback. In all cases, a presenter is expected to deliver the main message of the research orally.
Date: 8-13 April 2018
Location: Vienna, Austria
For more information see the conference website.
Austria
2018-04-08