Planning community-based monitoring? Learn from others' experiences now! Click here!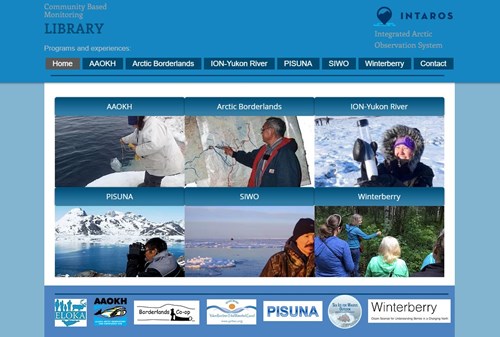 Many of the residents of the Arctic depend on natural resources for their livelihoods. The better the information they have, the more ready they will be for the challenges being brought about by the changes in their environment. INTAROS organizes workshops to contribute to the resilience of Arctic communities:
Workshops
INTAROS workshops are a collaborative effort between ELOKA and Yukon River Inter Tribal Watershed Council (North America), and NORDECO, NERSC and the Centre for Support of Indigenous Peoples of the North (Europe), The goal is to facilitate exchange of experience and to build further capacity in community-based observing in the Arctic. There is a particular focus on professional and cross-disciplinary skills and competences of young people to help ensure the sustainability of community-based observing into the future.
The topics addressed during these workshops include:
(i) using indigenous, local and scientific knowledge for informing decision making within key sectors like fisheries, tourism and industrial development;
(ii) facilitating the development of national policies in support of community-based observing and management, including access to management processes at higher levels with the aim of input of local knowledge perspectives for improved decision-making;
(iii) designing meaningful sampling and communication strategies for maximizing precision and decision-making given available resources;
(iv) involvement of school children and the private sector (e.g. tourist operators, and staff of mining and hydrocarbon companies) in community-based observing; 
(v) institutional and financial sustainability of community-based observing.
A number of workshop proceedings are available:
Community-based workshop, Fairbanks, Alaska - May 2017 
Community-based workshop, Quebec, Canada - December 2017 
Stakeholder dialogue, Longyearbyen - December 2018  
Cruise expedition monitoring workshop Svalbard and Greenland - March 2019  
Collaborative resource management and monitoring workshop, Hokkaido, Japan - June 2019  
Community-based monitoring capacity development workshops, Yakutia and Komi Republic, Arctic Russia – 2017-2019
Interested in community-based monitoring for policy-making? Want to learn more? Click here.